Leaders. Speakers. Teachers.
There's a speedy new way for you
to take it to the next level ...
SpeechDeck Makes You More Colorful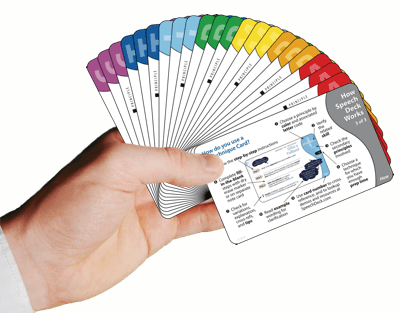 Don't memorize a 99-point presentation checklist from a college class.
Just pick a card…any card!
The SpeechDeck system takes all of the great techniques from professional speakers and makes them as easy to shuffle, as easy to understand, and as quick to use as a deck of cards!
To succeed with SpeechDeck you need to know just 8 easy-to-remember, color-coded principles.
If you master just a few of those principles, people will be hanging on your every word, sitting on the edge of their seats, and anxious to jump up and do what you ask.
You don't have to change who you are. Just add color. In other words, be yourself, only better--more engaging, more influential, and in less time. Speak in color!
The 3 SpeechDeck Components
The Speechdeck system involces 3 components:
1
The
Cards
2
The
App
3
The
Training
The SpeechDeck cards are a system of color coded principles and techniques that alow you to easily personalize the techniques that work for you. They are available online digitally and as a physical card deck.
The SpeechCrafter app is software that walks you through the SpeechDeck cards and system in a process of brainstorming ideas, organizing your content, and adding colorful techniques that make your presentation stand out.
The training provides in depth online courses and live workshops to help you get the most of the SpeechDeck presentation system.
It all starts with good content...
Start with the Black and White
No amount of colorful speaking techniques will help you unless you
start with a clear black and white message
.
The black and white cards in the SpeechDeck Essentials Pack are "content" tools. These cards will walk you through a process to organize your message for absolute clarity.
With the help of the black content cards, we trust you to develop a clear black and white message based on your own expertise.
Typical classes and mediocre speakers stop here, settling for the black and white, but SpeechDeck is primarily about adding "color."
People Listen Only if You're Colorful
Even if
you have
a great message ...
you'll have
ZERO impact
...
unless people actually
pay attention
to you.
Pure information, pure logic, and clear, black and white communication is not enough, because no matter how clear your message, black and white is boring.
Clarify Your Content
Maximize Anticipation
Develop Relationships
Reveal the Messenger
Encourage Participation
Empower the Individual
Manage the Theater
Engage the Subconscious
How do you speak in color? In a deck of SpeechDeck cards, the
8 colors
represent
8 principles
that make people pay attention to you and remember. Good information is not the same as good communication. Good communication requires color.
Based on scientifically verifiable principles of human psychology, the 7 principles of color each engages the audience in a different way.
If you have created a SpeechDeck account you will be able to access FREE training on each of these principles from your SpeechDeck dashboard.
Adding Color is Easy
You don't have to be a public speaking expert.
All you have to do is pick a card ... any card.
Your SpeechDeck Essentials Decks come with one principle cards and 12 technique cards of each color. Each color serves a unique purpose.
For example, let's say you're walking into a team meeting at work. You don't have time to prepare a script, but
you want have more influence
at the meeting.
All you have to do it pick a card. Look at the principle summary card at right for an instant overview of the 8 principles. Pick any color that matches your desired outcome and needs.
If you want to your communication at the meeting to have more "impact," you instantly see that you need to use a violet "Engage the Subconscious" card.
Next, you simply pick any violet card from the deck. Not every card is right for every personality, but since you'll have at least 12 cards of each color, you'll easily find a card that fits your personal style.
Follow the step-by-step instructions on the card. Most cards take less than 5 minutes to implement, so you'll be able to get more attention, more influence, and better results even when you don't have a lot of time.
You do it without changing your message, without conforming to arbitrary rules, and without copying others. You get to be yourself.
Adding color is easy. Just pick a card … any card.
Add More Color to Get Better Results
If you want the even better results, make sure you
choose techniques from every color of the rainbow
. The more colors that you include, the more engaging your presentation will be to the most people.
The Essentials Pack comes with all the black & white skill cards, the 8 principle cards describing each color, and 84 color-coded technique cards.
The combination of Principle cards and Technique cards means that SpeechDeck gives you both the principle-centered, big picture approach and also the step-by-step hands-on options, depending on your personality.
Color Leaves a Lasting Influence
Clear
Content
+
Engaged
Audience
=
Influence
If you have clear content and add an engaged audience, what do you get?
Influence.
With SpeechDeck, not only do you have a
clear message
, but a colorful one too.
Instead of delivering a great message with zero impact, you'll have a colorful presentation that fits your personality and keeps people listening.
Speak in color and your message will make a true, lasting impact.
Just pick a card... Any SpeechDeck card!
The Complete SpeechDeck System
The complete system includes the cards (available in digital or physical versions), the
SpeechCrafter
software, and
Online or live training
.
To get the starter kit that includes the cards, basic training, and limited SpeechCrafter features, BUY NOW.
To get the full SpeechCrafter app with everything above plus FREE digital SpeechDeck card integration SUBSCRIBE.
Click here to See a comparison